I'm all ears / Full Transparency & Accountability
I welcome all of your feedback! This is an opportunity to tell the world about your experience working with me. Click on the rating below to be taken to 3rd party website. I welcome all of your feedback! This is an opportunity to tell the world about your experience working with me. Click on the rating below to be taken to 3rd party website.
"For those of you considering contracting with a Realtor regarding a property transaction in the Skyline neighborhood, look no further than Elena Gorbounova and Your Skyline Connection! I cannot recommend her any more highly than I do. When making my decision, I interviewed several people from different firms and the choice was clearly the most knowledgeable and professionally qualified person, Elena. My decision turned out to be the best one I could possibly have made. Elena is not only highly qualified and completely committed to her clients but also the overall welfare of the Skyline community. However, for me, the most valued trait that Elena brought to our business relationship was her sincere concern for me and the result of my sale. She truly cares about getting the best possible outcome for her clients and she makes it happen! Thank you Elena!"
Jeanne Oliver
Skyline Square, Falls Church VA 22041 December 15, 2016
"Dear Elena:
Thank you for your efforts on our behalf in the sale of our condo. We greatly appreciated your pricing ad-vice and the close coordination, the teamwork you displayed throughout the process. Your sound business background gave us increasing confidence in you as we proceeded. In the end, your aggressive negotiations on our behalf under the pressure of time enabled the deal to go forward.
Thank you again for so effectively representing us in this transaction."
Fountain and Mrs. Fountain
Skyline Plaza, Falls Church VA 22041 August 26, 2015
"Elena: I wanted to take a moment to express my sincere appreciation for your skills in purchasing my new Alexandria townhome in the Stonegate community of Alexandria, VA. During the entire process, which lasted only 9 weeks, you maintained a professional real estate game plan which proved both Accurate in terms of the price offered, as well as effective, in getting the seller to agree to our terms. I must have saved thousands in the final purchase price of the home as well as obtained an exceptionally fine & well-kept property cheaper than any other end unit sold in the community. I truly hope to work w/ you on both; the sale of my townhouse when the time comes for me to move on, but also as a rental agent, if the need arises. Thank you sincerely!"
Rob Batten
Alexandria, VA, 22311 July 30, 2015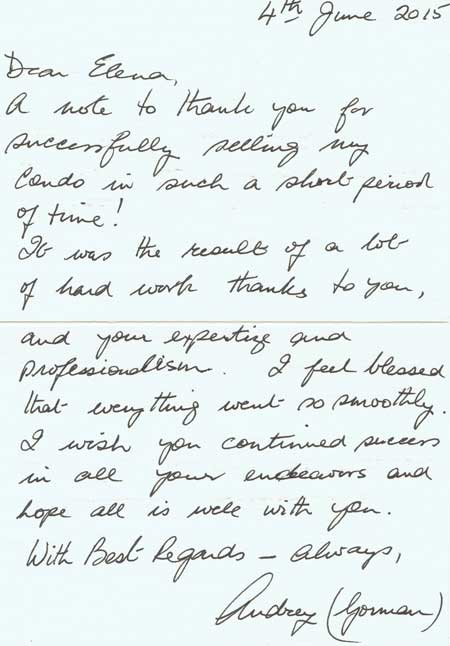 "As a former real estate sales manager I had many agents to choose from to sell my condo. However, I choose Elena not because we worked together before, but because she was the most qualified agent to sell my condo. Just as you wouldn't have your friend photograph your wedding day. I needed a professional and a professional is what I got. Elena knows her neighborhood extremely well and has the experience, connections, and ambition to get the job done. We sold less than 2 weeks for full asking price. Thank You Elena for your commitment to providing excellent service!"
Jennifer Elledge
3101 N. Hampton Dr. Alexandria, 22302 July 30, 2015
"Elena Gorbounova was absolutely outstanding! I had a contract on my property 60 hours after listing with her / your company. She is the consummate professional! She did an excellent job of concretely showing me that my initial expectations re sales price were unrealistic. I wish my initial realtor had done that rather than wasting over three months of my time. In closing, I can't say enough good things about Elena, and I have already recommended her to a friend who expects to sell her property in the fairly near future."
John McCann
Skyline Square, Falls Church, 22041 May 2015
"Elena was so wonderful in all her professional support from the very beginning to the end of this process. I had such peace of mind knowing that Elena was on top of everything, including minor details. I would recommend Elena to anyone."
Philip Ballard
Shirlington Arlington, 22204 May 2015
"My wife & I wanted to buy a vacation property in Skyline Square. We had very specific requirements (3BR, floors4-10) & knew that these were not often offered for sale. Our chances of getting one were further hurt since we live 4 h. away & are usually tied up running two businesses. Luckily we found Elena. She watched the market carefully for us, previewed properties & alerted us as soon as a good property appeared. he guided the transaction through from start to finish & even helped arrange cleaning & other services before we moved in. Without her fantastic work, we never would have been able to buy our perfect property. We would recommend Elena to anyone buying or selling in this market.
Thanks for the great work!"
Whitney & Max Schuetz
Skyline Square
Dear Elena: I wanted to take time to recognize the fantastic job you did in helping me to sell this unit in record time, and above my price expectations! Your advice and support from the beginning to end were outstanding … from analyzing my condo unit features, establishing the comparable sale prices, relating them to the current market trends, and giving me the accurate information to set a good starting point for the sale! What was amazing was all the work you did before the listing went active to pre-sell my unit (including the new "Coming Soon" tool for realtors) that resulted in the first offer from a buyer coming at the asking price, the day the listing was activated …. clearly you exceeded all expectations any seller could ask for, and in addition the buyer wanted to close in 30 days, thereby reducing my effective carrying costs for the closing! From my perspective, your advice and support were perfect in every way … from getting the unit ready for sale to setting the best price, to bringing a pre-qualified buyer on the first day of the listing going active, and having the first offer match the asking price, and closing thirty days later!
Truly in all my experience buying and selling seven real estate properties in five states I have never seen anything done as well (or even close) as you orchestrated this condo sale for me! Additionally, I worked as an attorney in VA for seven years, closing hundreds of loans, and you are by far and away the most effective, most knowledgeable, best informed and best communicator of any Real Estate Agent I have ever worked with! The additional element of your service that is so important (but hard to express in a measurement) is that I always felt the presence of your professionalism, your energy, and your commitment to me as a client, that I never had any question or doubt about the success of the effort you were managing for me! It is a great feeling not to have to worry about a transaction taking place hundreds of miles away, and to be able to go sleep every night with total Trust and Confidence!
Thank you for assisting me with one of the most successful sales transactions that there could ever be (by all measurements), and for doing it in a way that felt so stress-free, easy, and actually fun!"
Dave Pethick
Arlington Eclipse
"I wanted to take this moment to thank you for all the work and help you provided with our property on Rock Ridge Rd.
You have been courteous, very professional and it has been a pleasure to do business with you!
Thank you."
Srinivas and Radhika Guntur
12581 ROCK RIDGE RD HERNDON, VA 20170 Hastings Hunt
Elena Gorbounova
Your True Skyline Expert
Sign up for email updates and be the first to know when properties matching your search criteria are listed on the MLS.