I'm all ears / Full Transparency & Accountability
I welcome all of your feedback! This is an opportunity to tell the world about your experience working with me. Click on the rating below to be taken to 3rd party website.
Only consumers who actually participated in a closed transaction are eligible to render an agent review and past customer comments – closed transaction and validity of returned survey data verified by QSC and Leading Research Corp. Reliable information, more choices, better decisions.
"When I bought my condo at Skyline Square in Falls Church, VA, in 2007, Elena Gorbounova was my agent. I was extremely pleased with all aspects of her assistance to me, the buyer -- particularly since she argued successfully for what amounted to nearly a 5% reduction in the sale price. I lived in the condo for about a year-and-a-half, and on moving again used Elena as my agent to find my first tenant (who stayed about 18 months) and my second tenant (who stayed about 3 years). In both cases, she found outstanding renters. And last, but certainly not least, I just sold my condo -- and you, the reader, already know whom I chose as my agent. Elena, of course. By then, Elena knew my condo perhaps better than I did. (But to be honest, she and her son/colleague Kirill know Skyline Square better than any other agents.) It took Elena about three nanoseconds to make a recommendation on the asking price -- which I accepted immediately. I was not surprised that her recommendation was right on ... Not just because we had two offers (one at the asking price) during the first open house, but also because (as we learned later) the asking price was just below the appraisal arranged by the buyer. Needless to say, it's preferable to have your asking price just shy of the appraisal, as opposed to just over the appraisal (the latter of which can potentially derail a ratified contract). The only thing I regret is that the Zillow review system only allows 5-star (max) reviews. For all that Elena has done for me in such a professional manner over the years, I would unhesitatingly give her 6 stars!!!"
Keith Oatman (Department of Defense)
Skyline Square, 5501 Seminary Rd. #1113S, Falls Church VA 22041
"As a mortgage loan officer, I know hundreds of real estate agents. I divide these agents into Tier A, B and C, depending on their level of professionalism and real estate knowledge. I have the privilege of knowing Elena Gorbounova on both a personal and professional level. As a personal acquaintance, Elena is an extremely positive, kind, generous and loyal friend. On a professional level, Elena is a Tier A+ real estate agent. She is responsive, a go-getter and excellent negotiator. She listens to the needs of her clients and makes them her top priority, no matter whether they are buying a high-priced home or renting a studio apartment. She treats everyone equally with respect and consideration. She is the type of agent I would choose if I were buying or selling a home because she knows the real estate market like none other. She is a super star who is dedicated to her profession!"
Ellen Wilson
Mortgage Loan Concierge, McLean Mortgage Corporation
"Thank you for all your hard work getting my condo in Skyline Plaza rented! I appreciated your constant communication and professionalism. You did a great job of screening potential clients and I felt as though you really cared who rented my place. I feel confidant in using your team in the future if I decide to rent or sell the unit."
Elise Joseph
Skyline Plaza 1304 North
"Elena,
We would like to thank you for keeping our real estate transaction alive. You and your team went above and beyond to ensure our condo got sold. You have excellent listening skills, patience, creativity, and good understanding of how to deal with your clients.
We thank you for helping us have a smooth, fast, and pleasant real estate transaction."
Sherley L & Family
Skyline Square #2214S
"We are deeply appreciative of your guidance and perseverance with our property."
Clara Shen
Skyline Square - 5501 Seminary Rd #1904N, Falls Church, VA 22041
"You have earned our trust since day one and we look forward to all our business interactions with you. Thank you!"
Tony and Ralu
NortHampton Condominium 3101 N. Hampton Dr. # 719 Alexandria VA 22302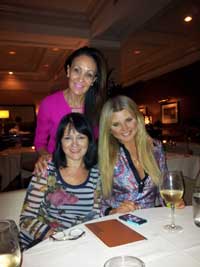 "Spasibo Lenochka za tvoui pomosh (Thank you very much Elena for your help)."
"I truly feel lucky that it was Elena Gorbounova who took care of selling my property. She did a remarkable job from beginning to end in a smooth, efficient and professional manner. She has shown her expertise, excellence, dedication in her field, working on and updating me with all the details and possibilities. I found her to be caring, compassionate and understanding. I commend Elena and Kirill, as well, for a job well done. They are an asset in the business and their success with all their exemplary skills and capabilities. Once again, thank you for an excellent performance!
"I didn't make the mistake in choosing your partnership as my agent. Kudos to both of you!"
Melinda U. Dy-liacco
Skyline Square Condomium Unit # 814N Falls Church 22041 VA
"I could not have been more satisfied with the work Elena and her team did to find a tenant for my condo. I moved from the area for work and was originally working with another realtor, who unfortunately did not work out. Elena stepped in to pick up the pieces and make up for lost time. She immediately posted my property on several sites and kept me apprised throughout the entire process. As you can imagine, trying to manage a property and find a tenant from another city is no easy feat, but Elena made this process fast and easy, while keeping my stress at bay. I would use her again in the future and certainly recommend her to friends."
Elizabeth DeHaven
5505 Seminary Rd unit 118N, Falls Church, VA 22041 Skyline Square Condominium
"Elena is the best. She helped me to buy the house, and sell it after 5 years of happy life in it. 5 years ago she helped me to find a house of my dream! it was smooth and great experience for the first time home buyer. I had no clue how to proceed. Elena took the time to educate me throughout the entire process including providing power point presentations with current statistics on market trends! She helped to negotiate the price and I got a great deal. Now, 5 years later, we outgrew the house and decided to sell it. Needless to say Elena was the first and the only person i thought of. And i was right. She was relentless as my advocate and agent, resolving problems and ALWAYS protecting me when my lack of knowledge of the process (this was the first property I have ever sold) or issues from the other side might have ended in results that were not in my best interest. She worked with me very closely to clear out any confusion I had and on many occasions and went above & beyond. I was very pleased with her service. Elena was right there for me each step of the way. During the whole process, I was impressed by Elena's honesty and integrity. She has reviewed my house, current market condition and recommended to increase the asking price.We sold the house within several weeks for the full asking price. She is a true Professional, and I recommended her to all my friends and colleagues! And i would not hesitate to recommend her services to anyone."
Diana Mirzakarimova
3815 WOODLAWN CT, ALEXANDRIA, VA 22304 Early St Village
Elena Gorbounova
Your True Skyline Expert
Sign up for email updates and be the first to know when properties matching your search criteria are listed on the MLS.